"We believe that women will be the architects of the liberation we are fighting so fiercely to attain." - Sumaq, Af3irm organizer
An organization that has been in existence for 28 years, the women of Af3irm continue to educate, inspire, and stimulate discussions of liberation and resistance. With the current political climate and almost mainstream view of feminism, the women of Af3irm have not only maintained their fighting stance against oppression in all its forms, they cultivate conversations of true intersectionality through passion and necessary discomfort in hopes to change our dreams to reality. Every time I chat with one of the members about the work they do, it all seems to stem from a very visceral place. A place where each committed minute to the cause is a minute dedicated to social justice, to women, and the future of a society we all deserve.
I worked with the organization on a project called Freedom Dreams: A Transnational Music Dialogue. The project's mission is to help create the visual landscape of liberation through stories of hope, images of resistance, and soundscapes of encouragement. Led by artists Chilean emcee Ana Tijoux, the First Lady of Arab Hip Hop Shadia Mansour, Artivist Entertainment founder emcee Maya Jupiter, and Tijuana-born singer-songwriter Ceci Bastida, the goal was to trigger all emotions of oppression through moods, vibrations, and sound. From there, take that responsiveness and manifest those visions into action, and continue the conversation of transnational feminism.
The event started by participating at the 10th annual Fandango Fronterizo at Friendship park - an area where friends and families can congregate and communicate through a fence that literally divides the U.S. from Mexico. Fandango Fronterizo began as a response to an indefinite problem. Jaraneros in San Diego and Tijuana wanted to play together, but couldn't cross the border to have a fandango together (Fandango is a traditional Spanish dance for two people, typically accompanied by castanets or tambourine). Fandango Fronterizo has united diverse musical communities despite the wall, barriers, and people that divide us. Of all my years living in San Diego, Baja California didn't concern me. For the first time, I saw what I took for granted, I saw families and friends stop at nothing to connect through a wall that could not divide them. I saw resistance, I heard the vibrations of hope, I dreamed of a different world.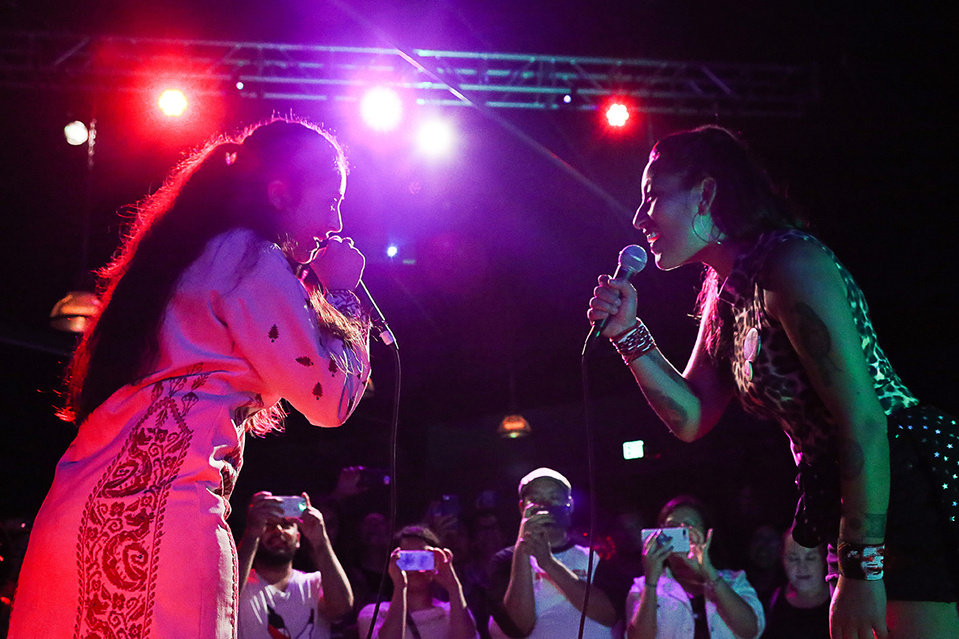 My dreams began to take life - the landscape was created at the border, and expanded into something palpable in LA. With their music, these four women incited feelings and visions of liberty and justice. There were moments where I wasn't behind the camera documenting, I was fully present in a movement. Their sounds created a binary beat that was hypnotizing and for me, transcended into a life that didn't seem unfathomable - where all people of color and from different struggles can live in a world of diversity and equality. I was captivated by Ana's hauntingly beautiful voice and piercing stage presence, Maya's words of hope and agile b-girl skills, Ceci's passionate juxtaposition of high-energy and soothing sounds, and Shadia's impeccable delivery and words of Palestine liberation.
I was humbled, numbed, motivated, and all the other words you could look up in a thesaurus that touch on excitement. This project is only the beginning of Af3irm, creating the landscape of liberation that we all deserve.
Learn more about the women of Af3irm here and get organized!
And check out the music of these bold and dynamic women.
Ana Tijoux
https://www.facebook.com/anitatijoux
Shadia Mansour
https://www.facebook.com/Shadia-Mansour-35106008298/

Maya Jupiter
http://artivistentertainment.com/maya-jupiter/
https://twitter.com/mayajupiter?lang=en
Ceci Bastida
http://www.cecibastidamusic.com/
https://twitter.com/cecibastida?lang=en